Glasnevin Physical Therapy is a Neuromuscular Physical Therapy clinic based in Glasnevin, Dublin 9. We specialise in the treatment of injury and pain.



Covid-19 Update 10 May 2021
The clinic is open again. You can book an appointment to visit the clinic or have a 'virtual' one via video or telephone.

Online Consultation - how does it work?

In the absence of a clinic consultation we set up our online platform so we can provide important advice and rehab to our clients. All you need is a smartphone or computer.
We will send you an email inviting you to a secure video consultation.
We will gather your clinical history - and whatever you can tell us about your injury and your symptoms. We will then look at your movement patterns over video, and ask you to perform specific tests with our guidance.
We will guide you through techniques (such as self 'trigger point' release and positioning movements for nerve tension) to help alleviate your symptoms.
We will then bring you through appropriate rehabilitation exercises you can do at home which will also be sent to you after the session.
Your progress will be monitored by us and we encourage you to send feedback or any queries you may have doing home exercises.
Sessions are €50 (we will invoice you after your appointment).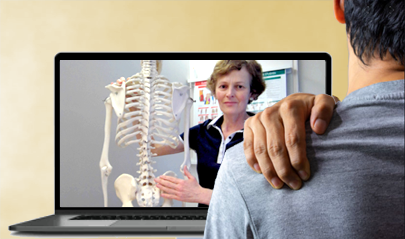 Email Lisa for an appointment

Our Services

Neuromuscular Physical Therapy
Specifically if you are experiencing muscle, joint or nerve pain. Further details on Neuromuscular/Physical Therapy



Frequency Specific Microcurrent (FSM)
FSM is a tiny painless microcurrent of electricity which is becomming an increasingly popular and effective form of treatment. More information on FSM


Deep Tissue Massage & Sports Massage
Focusing on preventing and treating injury and enhancing athletic performance. More information on Deep Tissue/Sports Massage
Conditions treated include: Repetitive Motion/Strain Injuries, Post Marathon Fatique, Balance & Coordination etc.